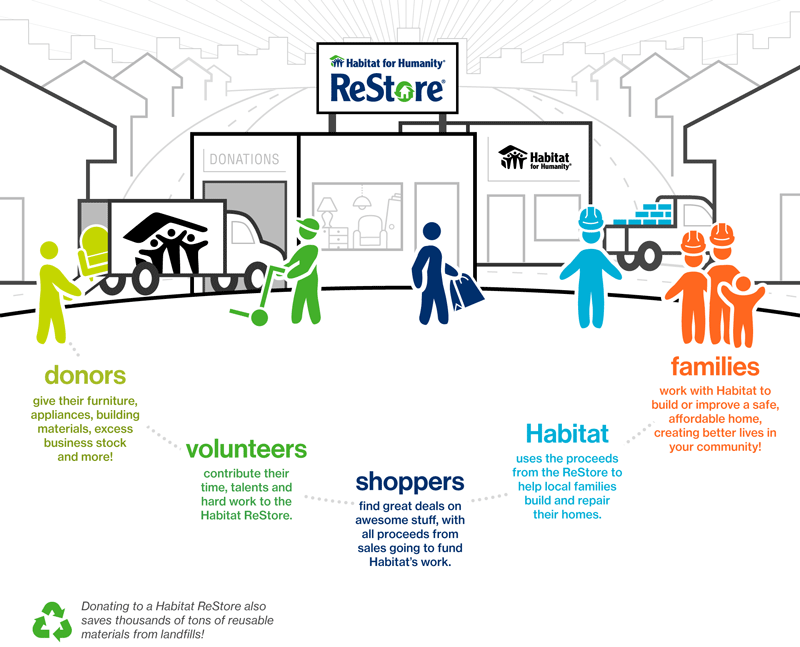 About ReStore
Habitat for Humanity ReStores are nonprofit home improvement outlets open to the public and full of new and gently used furniture, building materials, appliances, kitchen, and bath fixtures, and more all for sale at a fraction of the original cost. Revenue generated from the ReStores support Habitat for Humanity of the Mississippi Gulf Coast's work building, rehabbing, and repairing homes and providing no cost financial education to the community.
If you are looking to donate your new or gently used items, you can drop off your items at our Gulfport and Ocean Springs ReStore locations. Or, for a free pick-up of your larger items, you can call (866) HFH-PKUP, (866) 434-7587, or email pickup@hfhmgc.org.
From a small garage clean-up to a large warehouse liquidation, we can handle it all!
You can drop-off your items at our ReStore locations in Gulfport and Ocean Springs, or call 1-866-434-7587 for a free pick-up.
Items We Love!
Appliances (working): refrigerators, stoves, washers and dryers (dishwashers must be 2014 or newer)
Bricks, blocks, pavers, tile: boxes or bulk quantities, clean, no mortar, grout, or broken pieces
Building materials: roofing, siding, architectural items
Cabinets & Countertops
Doors & Windows
Home Décor: framed artwork, lamps, dishware, glassware, vases
Flooring: tile, hardwood, laminate
Furniture: sofas, dressers, tables, chairs
Hardware & Tools
Home Décor
Lawn & Garden
Lighting & Electrical (working with all parts)
Lumber & Trim
Plumbing: bathtubs, toilets, sinks
Seasonal and holiday items
Tools in working order with all parts
Office and executive furniture (desks, chairs, tables)
Items We Can't Accept!
No items which have/are defective, broken, water damaged, wood rot, mold, rips or tears.
Appliances in disrepair or of significant age
Automotive parts
Blinds: corded window blinds
Books
Cabinets: not broken or water damaged
Clothes/bedding/linens/shoes
Cribs, strollers, or any other children's products
Electronics (older): Tube TV's, phones, computers
Hazardous materials, used pump sprayers, propane tanks
Light bulbs: fluorescent, any type of halogen
Mattresses/box springs
Mirrors: unframed or glass
Office equipment: printers, scanners, fax machines, cubicles
Paint: Oil-based or opened cans
Pianos, Organs, or pool tables
Old dishwashers, water heaters or faucets (due to EPA lead requirements)
If you'd like to donate:
Please email pickup@hfhmgc.org and include the following:
First Name and Last Name
Address
Phone Number
Email
Description of items to be donated
Best pick-up day(s)
Special Instructions
Thank you for your donation! A pick-up ticket will be entered and a Donation Specialist will contact you to schedule a date and time for your pick-up.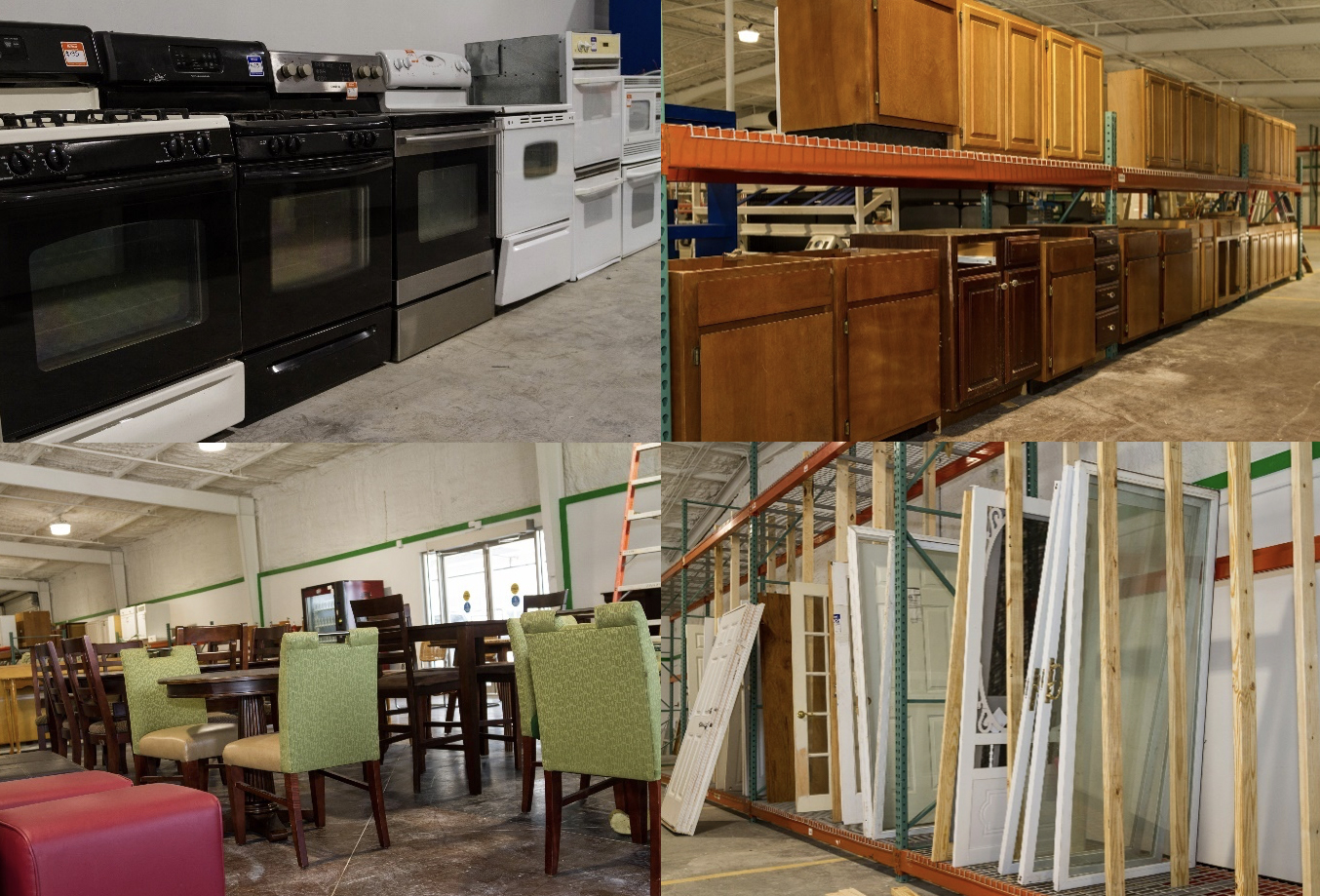 New shipments arrive regularly!
Be sure to keep a watch on social media!
You can shop ReStore of the Mississippi Gulf Coast for quality donated home furnishings, furniture, and building supplies at deeply discounted prices. All revenue supports the Gulf Coast Habitat for Humanity's mission of providing strength, stability and self-reliance for hard working families on the Coast.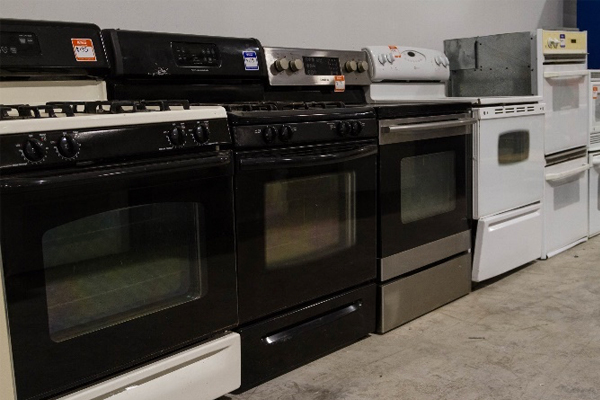 Appliances
When shopping at the Gulf Coast ReStore you'll find quality appliances at affordable prices. We carry a multitude of items and since we're donation based, our products are always changing! Shopping with ReStore guarantees you get a better deal and helps us serve another family who needs a home.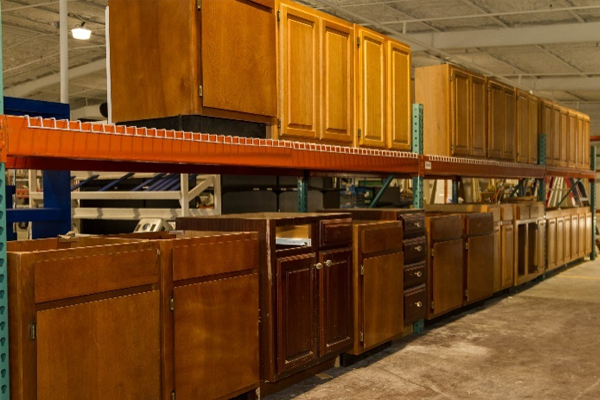 Cabinets
Shopping for new cabinets can be very expensive. Shop at ReStore and find quality cabinets at affordable prices. You can save money with ReStore, while saving waste from filling the landfills.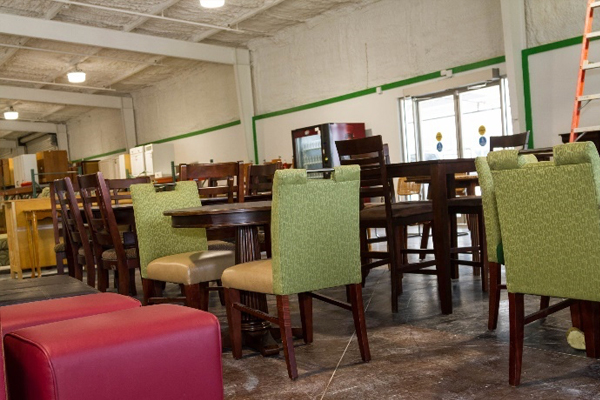 Furniture
If you're redecorating, a first time home owner, or even a student going away to college, ReStore has the furniture you need. Because we rely heavily on donations, our unique inventory is constantly changing. Check in regularly to find the treasure you didn't know you were looking for.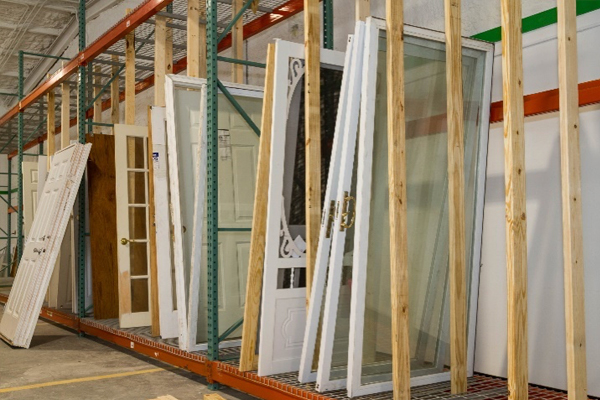 Building Materials
Whether you're a contractor, home owner, or just someone working on a creative project we've got you covered. ReStore stocks various building supplies year round. Items we commonly carry are lighting and electrical supplies, lumber and trim, doors and windows, plumbing materials, and tiles/flooring.
The Habitat ReStore is currently restricted to accepting Community Service Volunteers only.  To inquire, call (228) 678-9100, or email volunteer@hfhmgc.org.  We will continue to provide up-to-date information on when we will have volunteer opportunities. Please check back!
You can find descriptions of our current volunteer opportunities below.
Donation Processing: Help our team as they accept and sort donations. We often clean, refurbish or repurpose donations before they hit the sales floor.
Merchandising: Design new store layouts and retail displays, getting creative with our ever-changing inventory.
Customer Service: Greet customers, guide them through the store, answer questions and help load purchases once you seal the deal.
Truck Assistant: Ride along and help us load donations from homes and businesses across the Coast. Expect a workout.
Special Skills: Do you have a very particular set of skills? Woodworking? Electrical? Furniture or appliance repair? We can put your skill to work on a special project!
If you see something that interests you, or if you have skills to help us improve the ReStore, give us a call at (228) 678-9100, or email volunteer@hfhmgc.org.
Gulfport Location
8022 Highway 49
Gulfport, MS 39501
Monday – Friday: 9:00am – 6:00pm
Saturday: 9:00am – 5:00pm
(228) 678-9116
Ocean Springs Location
3176 Bienville Blvd.
Ocean Springs, MS 39564
Monday – Friday: 9:00am – 6:00pm
Saturday: 9:00am – 5:00pm
(228) 447-4835