By Adele Lyons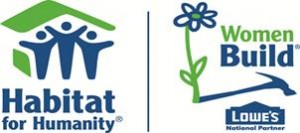 Gulfport, MS – Women volunteers, many representing "The Build Generation" of young women ages 18 to 24, will raise their hammers at Habitat for Humanity construction sites across the country in recognition of National Women Build Week, May 5-13. This event is a nationwide initiative of Habitat for Humanity's Women Build program developed in partnership with Lowe's.
To help volunteers get a jump-start on their building skills, Lowe's, the underwriter of Habitat's Women Build program and sponsor of National Women Build Week, is hosting a "how-to" clinic on Thursday, April 26, 2012 at its Gulfport store.
Women Build how-to clinic is open to women interested in volunteering at any local Women Build site or those interested in learning construction-related skills.  There is no cost to enroll and Lowe's provides all supplies. The clinic will be led by Lowe's store employees will teach home construction basics to volunteers and offer opportunities to practice new skills.  Women will also learn tool safety tips. Kathleen Wu, a sales representative from DeWalt Tools will participate in the clinic.
The free clinic will take place at Lowe's, 2151 John Hill Boulevard, just off Highway 49 in the Commercial Sales area on the following date:
How to Safely Use Hand and Power Tools Thursday, April 26, 2012 5:30 to 7 p.m.
To sign up for the clinic, volunteers should contact Flower Robinson at (228) 678-9100 ext. 1029 or frobinson@hfhmgc.org by Wednesday, April 25.  Each clinic is limited to 25 participants. Registered volunteers should wear comfortable clothing and come ready to learn.  All supplies will be provided on-site.
Habitat's Women Build program recruits, educates and inspires women to build and advocate for simple, decent and affordable housing in their communities. Lowe's committed more than $1.3 million to National Women Build Week, providing $5,000 Lowe's store gift cards and event support materials to 275 Habitat affiliates across the country.
This year's theme, "The Build Generation," reflects Habitat Women Build's goal to recruit and train women volunteers, as well as welcome the next generation of Habitat Women Builders – young women, ages 18-24 – to help support Habitat's mission to create affordable housing.
_________________________________________________________
About Habitat for Humanity of the Mississippi Gulf Coast

Habitat for Humanity of the Mississippi Gulf Coast was formed in January 2007 when Harrison County HFH and HFH of Jackson County merged organizations. Since then, HFHMGC has incorporated Stone County into its service area and has constructed or repaired more than 490 homes. HFHMGC works in partnership with community stakeholders to create innovative, sustainable housing solutions by empowering all members of our community to actively participate in creating opportunity for people to transform their own lives. To learn more, visit www.hfhmgc.org.
_________________________________________________________
About Lowe's

Lowe's supports the communities it serves through programs that focus on K-12 public education and community improvement projects. The company's signature education grant program, Lowe's Toolbox for Education®, has donated nearly $5 million in grants to K-12 public schools every year since its inception in 2006. Lowe's Heroes employee volunteers support local community projects and our national nonprofit partners such as Habitat for Humanity and the American Red Cross. In 2011, Lowe's and the Lowe's Charitable and Educational Foundation together contributed more than $32 million to support communities in the United States, Canada and Mexico.  To learn more, visit Lowes.com/SocialResponsibility.
________________________________________________________
About Habitat for Humanity International

Habitat for Humanity International is a global nonprofit Christian housing organization that seeks to put God's love into action by bringing people together to build homes, communities and hope. Since 1976, Habitat has served more than 500,000 families by welcoming people of all races, religions and nationalities to construct, rehabilitate or preserve homes; by advocating for fair and just housing policies; and by providing training and access to resources to help families improve their shelter conditions. For more information, to donate or to volunteer, please visit www.habitat.org, or follow us at http://www.facebook.com/habitat or at http://www.twitter.com/habitat_orgor join Habitat's blog community at www.habitat.org/blog.