By Beverly Tuskan 
The Mississippi Press
http://blog.gulflive.com/mississippi-press-living/2011/08/habitat_for_humanity_presents.html is your link the the Mississippi Press article relating the the home dedication yesterday in Pascagoula.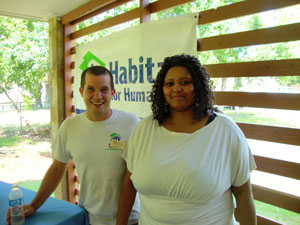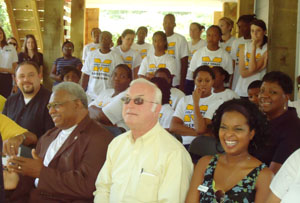 The article is repeated below:
Trevette Price took ownership of her new energy-efficient home Thursday from Habitat for Humanity of the Mississippi Gulf Coast.
The Tucker Avenue house is the first to be awarded a Leadership in Energy and Environmental Design (LEED) Gold certification by the United States Green Building Council. The designation is given for achieving green homebuilding and design, making homes energy and resource efficient, more healthy and durable for occupants.
"I love it," Price said. "I just want to thank everybody for helping me. It means a lot to me. I've been wanting to own a home for a while now, and I'm happy that my children will have a home. It's our home. My baby asked me, 'Mama, when we move into our new house, can I have a Chihuahua?'"
Price will live in the home with her three sons — ages 5, 7 and 11 years.
Chris Monforton, CEO for Habitat on the Mississippi Gulf Coast, praised Price for her perseverance in the program.
"Ms. Price, you've done a fantastic job of completing our program. We're amazed at how quickly you've been successful in starting and moving through the program to get mortgage ready."
According to Monforton, Price's house is expected to be at least 40 percent more energy efficient than a home built to standard building codes.
Construction began in November 2010 with Jamie Morton as construction supervisor on the job site.
Doug Fowler, Habitat's program manager, and Heidi Schattin, Habitat's sustainable building specialist, oversaw the planning and administration of home.
Over the seven-month construction schedule, more than 7,302 volunteer hours were put into the home.
"We're particularly excited to have the first LEED certified home right here in Pascagoula. Green building leads to a lower dependency on natural resources and a lower energy cost for homeowners," said Pascagoula Mayor Robbie Maxwell.
"This home was a model for new construction and we look forward to much more construction of this type in the future. We congratulate Habitat on a job well done, and we hope the Price family has many happy years in their new home. It's events like this that point out how important it is for us to support Habitat."
Councilman Robert Stallworth, who represents the ward in which Price's house was built, said the event was important because it gives a "hard-working lady an opportunity to own a home."
"It's not a hand me down, it's a hand me up for the effort that she put into this," Stallworth said. "She will have a decent place to live for her and her children."