By Adele Lyons
Contact:
Adele Lyons
Habitat for Humanity of the MS Gulf Coast
Cell: (228) 313-3841
alyons@hfhmgc.org
Stacey Lentz
Lowe's Companies, Inc.
704-758-2173
Stacey.C.Lentz@lowes.com
Volunteers to help build on Habitat for Humanity of the MS Gulf Coast house
Lowe's providing $40,000 grant to build home for Ladner family.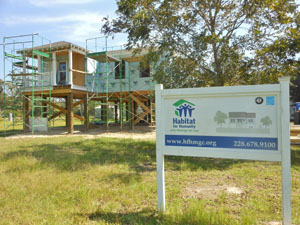 GULFPORT, MS (Oct. 30, 2012) – A volunteer construction crew of 10 Lowe's employees will pick up their hammers to help build a new Habitat for Humanity of the MS Gulf Coast home. The volunteer build day for the Ladner family's new home will take place at 6140 Hand Rd., Pass Christian, from 8:30 a.m. till 3:30 p.m. on Thursday, Nov. 1.
WHAT: Volunteer Build Day for Habitat for Humanity Home
WHEN: Thursday, Nov.1, 2012
8:30 a.m. Construction begins
11:45 a.m. Lunch served
12:15 p.m. Remarks and group photo opportunity & interview opportunities
3:30 p.m. Construction clean up begins
4 p.m.  Event concludes
WHO/INTERVIEW OP:
• Habitat for Humanity of the MS Gulf Coast Chief Executive Officer – Chris Monforton
• Director of Development – Adele Lyons
• Leah Ladner,  HFHMGC partner homeowner
• Mike Rowlands, store manager of Lowe's of Gulfport
WHERE: 6140 Hand Rd. , Pass Christian, MS  39571
Directions to job site from I-10 – Take the Menge Ave. exit, EXIT 24. Keep left at the fork to go on Menge Ave.  Turn right onto Cuevas Delisle Rd.  Turn left onto Hand Rd.  6140 Hand Rd. is on the left.
WHY: A volunteer construction crew of 10 Lowe's employees will participate in the construction of the Habitat for Humanity of the Mississippi Gulf Coast house. The volunteers are building the home with the Ladner family as part of Habitat for Humanity's effort to provide simple, decent affordable housing built in partnership with homeowners, volunteers and sponsors. Lowe's, a national partner with Habitat for Humanity since 2004, provided a $40,000 grant to sponsor this home. The grant is part of Lowe's current five-year, $20 million pledge to Habitat for Humanity International, which includes grant programs, project funding, how-to clinics and underwriting Habitat's Women Build program.
PROJECT DETAILS: The project is construction of a new home for the Ladner family.  Ms. Ladner is a single mother of 3 children – 2 girls and 1 boy.  After losing their home in Hurricane Katrina, the family lived in a trailer provided by FEMA (Federal Emergency Management Agency) then a cottage purchased from MEMA (Mississippi Emergency Management Agency).  Their cottage was moved to the property where the family's home was located prior to Katrina.
Construction began on July 23, 2012 when HFHMGC placed the cottage on 8 foot pilings to meet the flood elevation requirements and began to create a permanent foundation.  Three rooms are being added (living room, bedroom and bathroom) as well as an extended front and side porch.  The additions add 400 square feet bringing the total square footage of the 4 bedroom, 2 bath home to 1,344.  HFHMGC has successfully completed 3 of these cottage conversion projects in the last 3 years.
The home has passed all its inspections and is awaiting certification through the Insurance Institute for Business & Home Safety's (IBHS) Fortified Program.  The Fortified Program is a third-party certification that assures a newly-constructed home meets above-code features such as reinforced roofs, enhanced wind pressure standards for doors and windows, and other extra structural benefits.  Each Fortified home must undergo plan review by a licensed engineer to certify that it will meet the site's wind rating, plus 20 mph.  When this home receives its Fortified Gold designation (the highest level of achievement and the greatest disaster protection), the homeowner will be eligible for up to a 30% credit on wind premiums through their insurer.
The FORTIFIED programs is designed to help strengthen homes by using techniques and materials that will ward off damage from specific natural hazards and make the home stronger, safer and more durable. FORTIFIED homes are very likely to need fewer repairs after disaster strikes and are better for the environment in the long run because they are not likely to end up as debris in landfills following disasters.  Insurance discounts are available for FORTIFIED homes.
While this project is new construction, it is also serves as a major recycling effort since the MEMA cottages were brought in after Katrina for short term use.  With this conversion, a modular unit that would be worthless after several years will now be a long term housing solution for this family.
The Lowe's volunteers will be completing interior painting, installing interior trim, installing privacy screening around the lower level of the home and installing exterior siding.
***************************************************************************************************
About Habitat for Humanity of the Mississippi Gulf Coast
Habitat for Humanity of the Mississippi Gulf Coast was formed in January 2007 when Harrison County HFH and HFH of Jackson County merged organizations. Since then, HFHMGC has incorporated Stone County into its service area and has constructed or repaired more than 550 homes. HFHMGC works in partnership with community stakeholders to create innovative, sustainable housing solutions by empowering all members of our community to actively participate in creating opportunity for people to transform their own lives. To learn more, visit www.hfhmgc.org.
About Lowe's
Lowe's supports the communities it serves through programs that focus on K-12 public education and community improvement projects. The company's signature education grant program, Lowe's Toolbox for Education®, has donated nearly $5 million in grants to K-12 public schools every year since its inception in 2006. Lowe's Heroes employee volunteers support local community projects and our national nonprofit partners such as Habitat for Humanity and the American Red Cross. In 2011, Lowe's and the Lowe's Charitable and Educational Foundation together contributed more than $32 million to support communities in the United States, Canada and Mexico. To learn more, visitLowes.com/SocialResponsibility.
About Habitat for Humanity International
Habitat for Humanity International is an ecumenical Christian ministry that welcomes to its work all people dedicated to the cause of eliminating poverty housing. Since its founding in 1976, Habitat has built, rehabilitated, repaired or improved more than 400,000 houses worldwide, providing simple, decent and affordable shelter for more than two million people. For more information, or to donate or volunteer, visit Habitat.org.