By Adele Lyons
Lowe's volunteers help build Habitat for Humanity of the MS Gulf Coast home.
Lowe's provided $40,000 grant for project.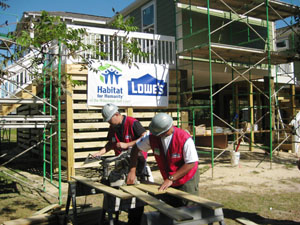 GULFPORT, MS (Nov. 2, 2012) – A volunteer construction crew of eight Lowe's employees from the Gulfport store picked up their hammers on Thursday, November 1st to help build a new Habitat for Humanity of the MS Gulf Coast home.
The home is being built for the Ladner family in Pass Christian.   Ms. Ladner is a single mother of 3 children – 2 girls and 1 boy.  After losing their rental home in Hurricane Katrina, the family lived in a trailer provided by FEMA (Federal Emergency Management Agency), then a cottage purchased from MEMA (Mississippi Emergency Management Agency).  Their cottage was moved to a lot owned by Ms. Ladner, which is near the location of her home prior to Katrina. Construction began at 8:30 am and concluded at 3:30 pm.
Participating as volunteers were Store Manager Mike Rowlands, Emma Daniels, Jim Wills, Jaclyn Barraclough, Monica Brown, Mike Siner, Jason Davis and Jermaine Handford.   The Lowe's volunteers worked on exterior painting, installing drywall, installing privacy screening around the lower level of the home and caulking.
Lowe's, a national partner with Habitat for Humanity since 2004, provided a $40,000 grant to sponsor this home. The grant is part of Lowe's current five-year, $20 million pledge to Habitat for Humanity International, which includes grant programs, project funding, how-to clinics and underwriting Habitat's Women Build program.
Construction began on July 23, 2012 when HFHMGC placed the cottage on 8 foot pilings to meet the flood elevation requirements and began to create a permanent foundation.  Three rooms are being added (living room, bedroom and bathroom) as well as an extended front and side porch.  The additions add 400 square feet bringing the total square footage of the 4 bedroom, 2 bath home to 1,344.  HFHMGC has successfully completed 3 of these cottage conversion projects in the last 3 years.  The home has passed all its inspections and is awaiting certification through the Insurance Institute for Business & Home Safety's (IBHS) Fortified Program.  The Fortified Program is a third-party certification that assures a newly-constructed home meets above-code features such as reinforced roofs, enhanced wind pressure standards for doors and windows, and other extra structural benefits.
___________________________________________________________
About Habitat for Humanity of the Mississippi Gulf Coast
Habitat for Humanity of the Mississippi Gulf Coast was formed in January 2007 when Harrison County HFH and HFH of Jackson County merged organizations. Since then, HFHMGC has incorporated Stone County into its service area and has constructed or repaired more than 550 homes. HFHMGC works in partnership with community stakeholders to create innovative, sustainable housing solutions by empowering all members of our community to actively participate in creating opportunity for people to transform their own lives. To learn more, visit www.hfhmgc.org. Fan us on Facebook /HFHMGC and follow us on Twitter @HFHMGC
About Lowe's
Lowe's supports the communities it serves through programs that focus on K-12 public education and community improvement projects. The company's signature education grant program, Lowe's Toolbox for Education®, has donated nearly $5 million in grants to K-12 public schools every year since its inception in 2006. Lowe's Heroes employee volunteers support local community projects and our national nonprofit partners such as Habitat for Humanity and the American Red Cross. In 2011, Lowe's and the Lowe's Charitable and Educational Foundation together contributed more than $32 million to support communities in the United States, Canada and Mexico. To learn more, visitLowes.com/SocialResponsibility.