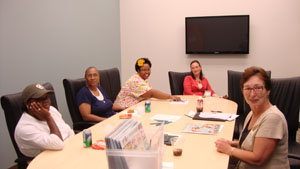 HFHMGC Client Services has a long history of successfully partnering with our Clients to help them address financial barriers to homeownership and become homeowners. Under the supervision of the Director of Client Services (Director), the Program Specialist will be responsible for using this experience to help Clients tackle a broader range of personal financial goals. The Program Specialist will develop and implement a robust and innovative combination of group education and individual counseling/coaching services to assist Clients across the entire spectrum of personal finance topics as they work to achieve and maintain financial self-sufficiency.  The full job description can be downloaded below.
Application Instructions:
Interested applicants should submit a resume and cover letter before Friday, October 14, 2011.
Habitat for Humanity of the MS Gulf Coast
Attention: Erica Higgs, Director of Client Services
2214 34th Street
Gulfport, MS 39501
ehiggs@hfhmgc.org
(Fax) 228-678-9113
No phone inquiries please.