By Barbara Levine
HFHMGC Seeks Applicants for Construction Supervisor. If you would like to apply, please submit your resume to jobs@hfhmgc.org. The job description is below and you may print it from the attached .pdf file.
Job Title:  Construction Supervisor Gr 3
Status:  Full Time/Hourly/Non-exempt
Review:  90 day evaluation & annual review
Benefits:  Medical, Dental, Vision, Vacation, 401(k)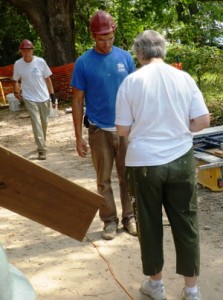 Position Summary:
Under the direction of the Construction Manager, the Supervisor manages a team of Supervisors/crew members to complete construction production requirements.  The Supervisor has overall responsibility for completing construction projects per annual goals utilizing paid staff, AmeriCorps and volunteers.  Supervisor may also oversee and manage turn-key homes utilizing subcontractors.  The Supervisor monitors quality control, safety and jobsite security issues, staff and subcontractor performance and works with his/her team to ensure that scheduled benchmarks are achieved on all projects in accordance with Master Construction Schedule.  Ensures volunteers are integrated into the daily construction process.
Position Description:
• Manage Supervisors, monitor job performance and augment training as needed
• Oversee construction schedule for all projects assigned to Supervisor team; track daily/weekly progress and advise Expediter as required to keep Master Construction Schedule current
• Oversee, monitor and coordinate as needed the scheduling of subcontractors, material deliveries and inspections for projects assigned to Supervisor team
• Manage Supervisor reports on jobsite problems such as faulty equipment, substandard performance by subcontractors, poor logistics, personnel issues, etc.; work with Construction Manager to resolve
• Oversee Supervisor work assignments to ensure proper utilization of Crew Leaders, AmeriCorps, NCCC, Habitat Homeowners and volunteers
• Responsible for quality assurance on construction projects of Supervisor team
• Responsible for compliance with jobsite safety standards on construction projects of Supervisor team
• Oversee issues of jobsite maintenance and security of equipment, tools and materials
• Know the procedure for managing Accident Reports and ensure that all Supervisors are trained to follow it.  Respond immediately to any Accident Reports and ensure that they are brought to the attention of the appropriate staff at HFH MS Gulf Coast
• Through the team, ensures volunteers are integrated into the construction process with appropriate training, oversight and correction to produce a quality experience and product.
• Work within established processes and procedures for procuring materials and subcontractors.
• Flags and recommends strategies to meet schedule and make up schedule slips.
• Maintain and safeguard equipment, tools, and building
• Works with Materials Procurement Manager to reduce on-site waste, understand bill of materials.
• Other duties as required by business needs and requested by Lead Supervisor or Construction Manager
• Trains across teams as required to introduce new building techniques and materials for energy star, weatherization and fortification as adopted by HFHMGC
Minimum Qualifications:
• 8 years proven record in construction, appropriate material usage and supervision with increasing levels of responsibility and skills
• Ability to manage multiple projects and crews for successful project completion
• Knowledge of IRC, local building codes and permitting requirements
• Demonstrated planning and organizational skills, including the ability to anticipate tasks, set priorities, meet deadlines, and function smoothly under strict deadlines and shifting priorities
• Knowledge and experience with IRC, local codes and permitting requirement
• Ability to adhere to a construction program and tie supplies, labor (sub-contract, staff, and volunteers) management and production schedule to meet specific construction goals
• Computer literacy with experience in Microsoft Office, Outlook, Project, Word, Excel and Internet
• Strong team player with demonstrated ability to manage personnel
• Previous experience managing commercial or residential construction
• Commitment to affordable housing and Habitat's mission
• Standing, walking, working frequent overtime and weekends, exposure to heat, wind and rain, ladder climbing, residential construction skills, driving trucks and construction equipment, ability to lift up to 50 pounds, willing to work evenings under and weekends.
<a href="https://hfhmgc.com/wp-content/uploads/2013/12/5-21-12Construction_Supervisor.pdf" target="_blank">Download</a>