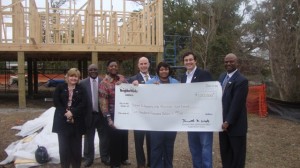 On January 20th in Pascagoula HFHMGC & NeighborWorks America celebrated a new strategic partnership. NeighborWorks presented a check for $200,000, doubling their original commitment. NeighborWorks staff from across South Mississippi, New Orleans, and D.C. were on hand, along with HFHMGC CEO Chris Monforton to commemorate the event.
The event also highlighted HFHMGC's first home built under the LEED green building certification program. The home represents HFHMGC's continued focus on design, durability, and sustainability. Additionally LEED certification includes factors such as energy efficiency, water conservation, indoor air quality, site control and material usage
We would like to thank NeighborWorks America, along with all of our donors,  for the support that makes it possible to continue building decent affordable housing in South Mississippi.
In photo, from left: Donna Talley and Donald Phoenix of NeighborWorks America, HFHMGC board member Maxine Conway, Robert Burns of NeighborWorks, future homeownerTrevette Price, HFHMGC CEO Chris Monforton, and James Ross of NeighborWorks
Also check out local news coverage of the event:
http://blog.gulflive.com/mississippi-press-news/2011/01/habitat_for_humanity_receives.html
http://www.sunherald.com/2011/01/20/2794429/habitat-goes-green.html