More than 10,000 women are expected to volunteer at Habitat for Humanity construction sites across the country in recognition of National Women Build Week, May 4-12.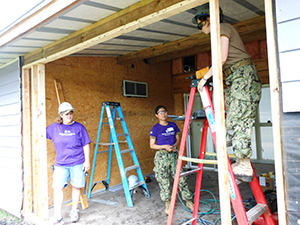 Now in its sixth year, National Women Build Week challenges women to devote at least one day to help build affordable housing in their local communities. Habitat for Humanity of the Mississippi Gulf Coast has hosted a Women Build event for the past six years.
On Thursday, May 2 – Saturday, May 4, over 50 female volunteers from across the Mississippi Gulf Coast, including Lowe's Heroes will work on a new home construction site in Pascagoula, Miss.
WHAT: Local Women Build day in recognition of National Women Build Week
WHEN: Friday, May 3, 2013 9:00 am Construction begins 3:30 pm Construction ends
WHO (INTERVIEW/PHOTO OPS):
– Habitat for Humanity Mississippi Gulf Coast – Adele Lyons, Director of Development
– Julia Howell of Lowe's of Pascagoula
– Local female volunteers
WHERE: 1003 – 12th Street, Pascagoula, MS 39567-7403
Off US-90, head south on Market St. Travel 1.52 miles. Turn left onto Parsley Ave. Travel 0.32 miles. Turn left onto 11th St/Parsley Ave. Take the 1st right onto Parsley Ave. Take the 1st right onto 12th St. 1003 12th Street is on the right.
WHY: Habitat's National Women Build program recruits, educates and inspires women to build and advocate for simple, decent and affordable houses in their communities. Lowe's, the underwriter of Habitat's Women Build program donated more than $1.75 million to 300 Habitat affiliates across the United States during National Women Build Week.