Habitat for Humanity of the Mississippi Gulf Coast AmeriCorps members will travel to Eustis, FL April 21 through April 27 to participate in Habitat for Humanity International's annual AmeriCorps Build-a-Thon.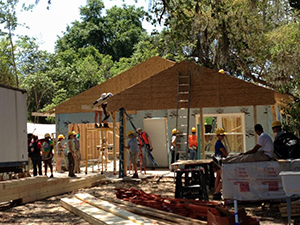 Held late April though early June, the AmeriCorps Build-a-Thon will highlight the need for affordable housing in these communities while celebrating AmeriCorps members' service with Habitat. The event will engage more than 400 AmeriCorps members and AmeriCorps Alumni from 37 states.
"We are incredibly grateful for the dedicated service these AmeriCorps members commit to helping low-income families in need. Habitat's Build-a-Thon allows AmeriCorps members to showcase their role they play in our ability to serve communities across the country," said HFHMGC Host Site Manager Austin Coomer.
AmeriCorps members from HFHMGC participating in the event are AmeriCorps National members Daphane Maxwell, Darrell Meier, Erik Delcalzo, Genie Talbert, Jen Brandon, Jermaine Long, Josh Morris, Kat DaSilva, Matt Delcalzo, Nancy Rodgers, Nolan Corlett, Paula Brown, Sarah Dixon, Teetra Harris and Thomas Steussy-Williams. Also attending is AmeriCorps VISTA member Kailey Redding.
This year's Build-a-Thon events are being hosted by Habitat affiliates in Eustis, Fla.; St. Croix Falls, Wis.; Seattle, Wash.; Pensacola, Fla.; and Washington, D.C.
Work at the Build-a-Thon locations will focus primarily on neighborhood revitalization efforts and will include new house construction, rehabilitation of existing homes and minor home repairs, as well as community service projects in partnership with local organizations. Uniquely, the Veterans Build on the Mall will engage AmeriCorps members and veteran and civilian volunteers, to build seven house frames to be used in the homes of local families and three wheelchair ramps for veterans aging in place.
"Our AmeriCorps members are future leaders in the affordable housing movement, and they play a critical role in helping Habitat serve more families across the U.S.," said Peter Rumsey, Habitat for Humanity International's director of National Service. "Their service during the Build-a-Thon is an exciting opportunity to help meet the needs of these communities while showcasing the skills and knowledge they've gained during their time with Habitat."
Since Habitat partnered with the Corporation for National and Community Service in 1994, more than 7,000 AmeriCorps members have served with Habitat for Humanity. These individuals have helped Habitat serve more than 17,000 U.S. families, contributed more than 13 million hours of service, raised tens of millions of dollars in cash and in-kind resources, and engaged more than 2.8 million volunteers. For more information or to learn how to get involved please visit www.habitat.org/americorps or www.americorps.gov.