Habitat for Humanity to Showcase New FORTIFIED Home
Future homeowners expected to receive 25% discount on wind insurance.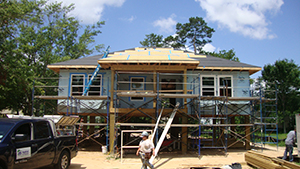 Habitat for Humanity of the Mississippi Gulf Coast will showcase a new home under construction during an open house tours Wednesday, July 31 in Pascagoula. Tours are offered at 9 a.m. to 10 a.m. and from 10:30 a.m. to 11:30 a.m. The home is located at 1003 12th St., Pascagoula, MS. The public is invited to attend the open house tours.
The home is being built to meet FORTIFIED Gold requirements. Smart Home America, whose mission is focused on strengthening homes and communities, leads the tour. Smart Home America is collaborating with Habitat for Humanity to utilize a grant from The Allstate Foundation. The grant provides Habitat with the funding for the minimal cost increase to be eligible for a FORTIFIED designation. An Allstate Foundation grant requirement is that the project be used as an educational platform for the community to inform building professionals, city officials and community residents on the importance and affordability of building and retrofitting to a higher standard.
"With minor improvements over the standard code built home, the Habitat home will now not only better survive the next storm with less damage, but will save the homeowner on their wind insurance premiums", said Alex Cary, Smart Home America Executive Director.
"The open house tours are being held to allow community stakeholders to walk through the construction site, learn about FORTIFIED construction and ask questions of both the Habitat staff and FORTIFIED professionals that will be present", said Cary.
Tour guides are: Darius Grimes, Institute for Business and Home Safety Certified Inspector for FORTIFIED Homes
Barbara Levine, HFHMGC Chief Operating Officer
Heidi Schattin, HFHMGC Sustainable Building Specialist
Alex Cary, Smart Home America Executive Director
"It is a natural fit with Habitat taking the lead on the Coast on sustainable building with special concern for the life-cycle and maintenance costs of the homes we build", said Barbara Levine, HFHMGC Chief Operating Officer.
The FORTIFIED Program is a third-party certification that assures a newly-constructed home meets above-code features such as reinforced roofs, enhanced wind pressure standards for doors and windows and other extra structural benefits. In 2012, the Mississippi legislation passed HB 1410 requiring all new construction homes qualified under FORTIFIED Home program standard qualify for a 25% discount from both the state's wind pool and private insurance providers due to of the reduced risk these homes present to insurers.
Devised by IBHS, FORTIFIED is a voluntary standard for both new and existing homes that guides builders and contractors to achieve above-code standards that offer superior protection to natural disasters. Working with building science experts, engineers, and insurance professionals, research for the program has been conducted through IBHS's state-of-the-art research facility, in which full-scale versions of homes are built and tested. By subjecting these homes to various simulations of hurricane force winds, heavy rainfall, and fire, IBHS has been able to identify priority improvements in home construction to protect the home from natural disasters.
The FORTIFIED requirements for high wind areas focus on strengthening the roof system, exterior walls, window openings, and the home's structural connections, all of which have proven to be most vulnerable in severe weather. Each new build undergoes two inspections (one pre-drywall, and one at the end of construction) and upon meeting all of the requirements, the home earns the FORTIFIED designation. There are three levels of certification available in the program: Bronze, Silver and Gold, with Gold being the highest.
Some construction features that may be included in a FORTIFIED Gold home include details such as: – Engineered gable end connections and lateral bracing
– All plans reviewed and stamped by a licensed engineer to verify the home meets local wind code
– Roof vents tested to Miami-Dade standards
– Sealed roof deck, to protect the home and its contents in case the roof material is damaged
– Impact rated doors and windows or other protection system
– Enhanced nailing patterns on wall and roof sheathing
Construction began on April 10, 2013 and the home is elevated by nearly 10 feet to meet the flood elevation requirements. The home is 1,202 sq. ft. and has 3 bedrooms and 2 bathrooms. This is the second home HFHMGC has built to meet the FORTIFIED requirements.
Partners on this event are Smart Home America, The Allstate Foundation, Sea Grant Mississippi – Alabama and IBHS FORTIFIED Home Program.
About Smart Home America Smart Home America is a nonprofit, grassroots organization, promoting preparedness and resilient communities through education, collaboration and the strengthening of homes to reduce property damage, economic loss and personal injury. To learn more about the FORTIFIED program and Smart Home America, visit their website at www.smarthomeamerica.org or contact them at 1-855-SHA-SAFE
About The Allstate Foundation Established in 1952, The Allstate Foundation is an independent, charitable organization made possible by subsidiaries of The Allstate Corporation (NYSE: ALL). Through partnerships with nonprofit organizations across the country, The Allstate Foundation brings the relationships, reputation and resources of Allstate to support innovative and lasting solutions that enhance people's well-being and prosperity. With a focus on teen safe driving and building financial independence for domestic violence survivors, The Allstate Foundation also promotes safe and vital communities; tolerance, inclusion, and diversity; and economic empowerment. Over the last 60 years, the Foundation has contributed nearly $300 million to organizations and projects in communities throughout the nation. For more information, visit www.allstatefoundation.org