By Adele Lyons
FOR IMMEDIATE RELEASE
Contact:
Adele Lyons, Director of Development and Communication
228-678-9122 office
228-313-3841 cell
alyons@hfhmgc.org

Kenya Miniard, A/C VISTA Veterans Outreach Specialist
228-678-9100 ext. 1009
228-243-5986 cell
kminiard@hfhmgc.org

HABITAT FOR HUMANITY PARTNERING WITH SULLIVAN FAMILY AS A KICKOFF TO VETERANS INIATIVE AND COLLEGIATE CHALLENGE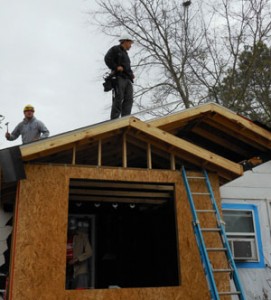 Gulfport, MS (February 17, 2012) – After months of planning and preparation, Habitat for Humanity of the MS Gulf Coast (HFHMGC) will officially Kick Off the Veterans Initiative with a celebration at the home of the Sullivan family on Thursday, February 23 from 3 – 4 pm.
In August 2011, Habitat for Humanity of the MS Gulf Coast (HFHMGC) began developing a program to work with our local military community including veterans, retirees, active duty, military installations and military support organizations.  Habitat's Veterans Initiative is focused on several interrelated strategies:  affordable homeownership, home preservation, energy efficiency, volunteer mobilization, employment, education and celebration. Habitat for Humanity International has 10 AmeriCorps VISTA members currently engaged in serving with and for military and veterans nationwide, including Kenya Miniard with Habitat for Humanity of the MS Gulf Coast.
This initiative will strengthen the good work already happening while providing support and honoring military veterans who served in the past, as well as the military families still serving who are living on the Mississippi Gulf Coast.
The first major project of the Initiative kicked off on February 14, 2012 with a repair and rehab project.  Through HFHMGC's partnership with the Disabled American Veterans organization Chapter 17, the Sullivan family was identified for this initial project.  The construction work being completed at the Sullivan home includes enclosing the porch, widening the kitchen making it wheelchair accessible for Mr. Sullivan, giving the home a finished exterior and building a wheelchair ramp leading to the side door.
The volunteers assisting with the repair and rehab of the Sullivan home are from the University of Western Ontario in London, Canada.  These students mark the first group participating in Habitat's national alternative spring break program, Collegiate Challenge. The Western Ontario group includes a total of 30 students who will travel over 19 hours covering over 1,200 miles.   Spring Collegiate Challenge will run through early May with a total of 153 college students volunteering with Habitat for Humanity.
About the Sullivan family – Tom Sullivan, a decorated Vietnam Veteran, is a native of Pascagoula and continues to reside there with his wife of 41 years, Gloria.  He is a pillar of his community which is evident through his service in his local chapters of Disabled American Veterans and Veterans of Foreign War organizations.  He is the father of six and the proud grandfather of twelve.  Mr. Sullivan served in the Navy from 1969 – 1972.  During that time, he was stationed at the Seabee Base in Gulfport.  After dedicating four years of service to the Navy, he served in the Army National Guard from 1973-1983 in Pascagoula, MS.  He received the National Defense Service Metal for his service.
#######
About HFHMGC
Habitat for Humanity of the Mississippi Gulf Coast was formed in January 2007 when Harrison County HFH and HFH of Jackson County merged organizations. Since then, HFHMGC has incorporated Stone County into its service area and has constructed or repaired more than 465 homes. HFHMGC works in partnership with community stakeholders to create innovative, sustainable housing solutions by empowering all members of our community to actively participate in creating opportunity for people to transform their own lives. To learn more, visit www.hfhmgc.org.