By MARGARET BAKER 
Sun Herald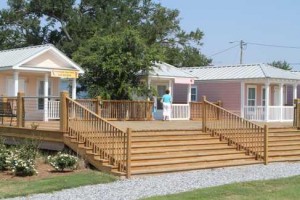 That's the message city leaders are sending out to shoppers for today's grand opening of Anchor Square, a post-Katrina retail development connecting the Flagship City's downtown district to the future site of mixed-use development on Pascagoula's riverfront.
"A vibrant city has to have a tremendous retail base," Pascagoula Mayor Robbie Maxwell said Wednesday. "We lost our retail base in the hurricane. While we know this is not going to solve our problems, it's a good start."
Anchor Square has a mix of retail shops and restaurants in the heart of Pascagoula.
Sixteen Mississippi cottages make up Anchor Square off Delmas Avenue, with 11 of the buildings already leased for business, another converted to a combo office and public restroom and four others still waiting to be leased.
The city, the National Oceanic and Atmospheric Association and Habitat for Humanity teamed up to make Anchor Square an attractive place to shop. Today is the official grand opening, kicking off with a 3 p.m. presentation followed by a 1950s ice cream social from 5:30 to 8 p.m., with classic cars and live music also on site.
Shoppers can look forward to a mix of food, featuring anything from Southern food to German delights.
D'Vine Soul food offers on-site dining and take out orders. And Brigitte's Cafe' offers folks a mix of German and American cuisine. There's also a specialty clothing store, a custom monogram gift store, a bath and body shop, a spa, nail and beauty store, a photography shop and other offerings.
Linda Ruffin, owner of Paradise Gardens, moved her business from Gautier to Anchor Square because she saw it as a "bigger" opportunity.
NOAA donated a 5,000 pound anchor from the research ship Pisces to welcome visitors to the site. The vessel, which responded to the Deepwater Horizon oil spill, will be open to free tours today.
Harry Schmidt, director of community and economic development, said the city spent about $32,000 for renovations and grants covered the rest of the expenses. He credits Gulf Coast Community Foundation, Habitat for Humanity, MEMA and NOAA for help making Anchor Square a reality. It's been at least two years in the making.
Peggy Eley and her sister-in-law Cathy Pittman showed up to shop Wednesday but planned to return today. "I just think it's a fantastic concept," Eley said. "I hope the people come out and support it. It's just what the town needs. It's a darling setting. And anything to jump-start Pascagoula, I'm all for that."
Eley and Pittman said they were looking forward to once again being able to buy clothes in the city, something that was easy to do in the 1960s when stores were bustling in the downtown district. "I think this area is beautiful," Eley said. "Pascagoula and Jackson County have so much to offer. I think that this county is just poised to explode with economic development."
www.sunherald.com/2011/08/17/3357822/anchor-square-open-for-business.html#disqus_thread#ixzz1VVE7HHEN